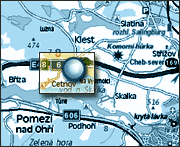 Map

If you don't know how to get to us, just click for the details.
Price list
Accommodation prices are moving in the range from 300,- Kc to 450,- Kc for a person per a day according to a kind of rented room or apartment and to a year season. If you take only one bed in the apartment, the price of the other one bed dwindle to its half.

Price of the breakfast is 100,- Kc, any other food is available only in near restaurant.

To get an actual data about our prices is possible through any of our contacts, or phone numbers : +420 603 714 093.